The objectives of the project "Hybrid organic/inorganic memory elements for integration of electronic and photonic circuitry" are to resolve fundamental issues of materials science and to realize new hybrid inorganic/organic devices with functionality far beyond current state-of-the-art.

The Destiny project will tackle major challenges in the development of stable dye-sensitized solar cells, DSC. DSCs offer exciting possibilities for applications in building integrated photovoltaics and consumer electronics. This Marie Curie Initial Training Network is focused on fundamental research to understand the causes of degradation with the aim of finding ways of enhancing cell and module life time and stability without sacrificing performance and scalability.
NEWLED: Nanostructured Efficient White LEDs based on short-period superlattices and quantum dots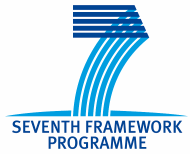 The NEWLED project aims to develop a new generation of white light-emitting LED lights, which would be much more efficient than any existing light bulbs. Values of 50 to 60% overall efficiency with a conversion of greater than 200 lm/W in the exploited warm white LEDs are targeted as well as the realisation of a colour rendering index (CRI) of greater than 90. Widespread use of such LEDs would reduce global energy consumption by approximately 10% and massively reduce CO2 emissions. The effort to produce highly efficient white LEDs will see the project examine every stage of the LED fabrication process, from developing new knowledge on the control of semiconductor properties on a near-atomistic level to light mixing and heat management.


Organic semiconductor solar cells are a promising route to scalable, economically viable, energy conversion technologies due to the potential for development of low cost, flexible, large area cells and modules. The GO-NEXTS project, will focus its attention on new kind of electrodes based on doped, textured (ie 3D) graphene electrodes, in order to increase the overall efficiency and performance of bulk heterojunction solar cells.